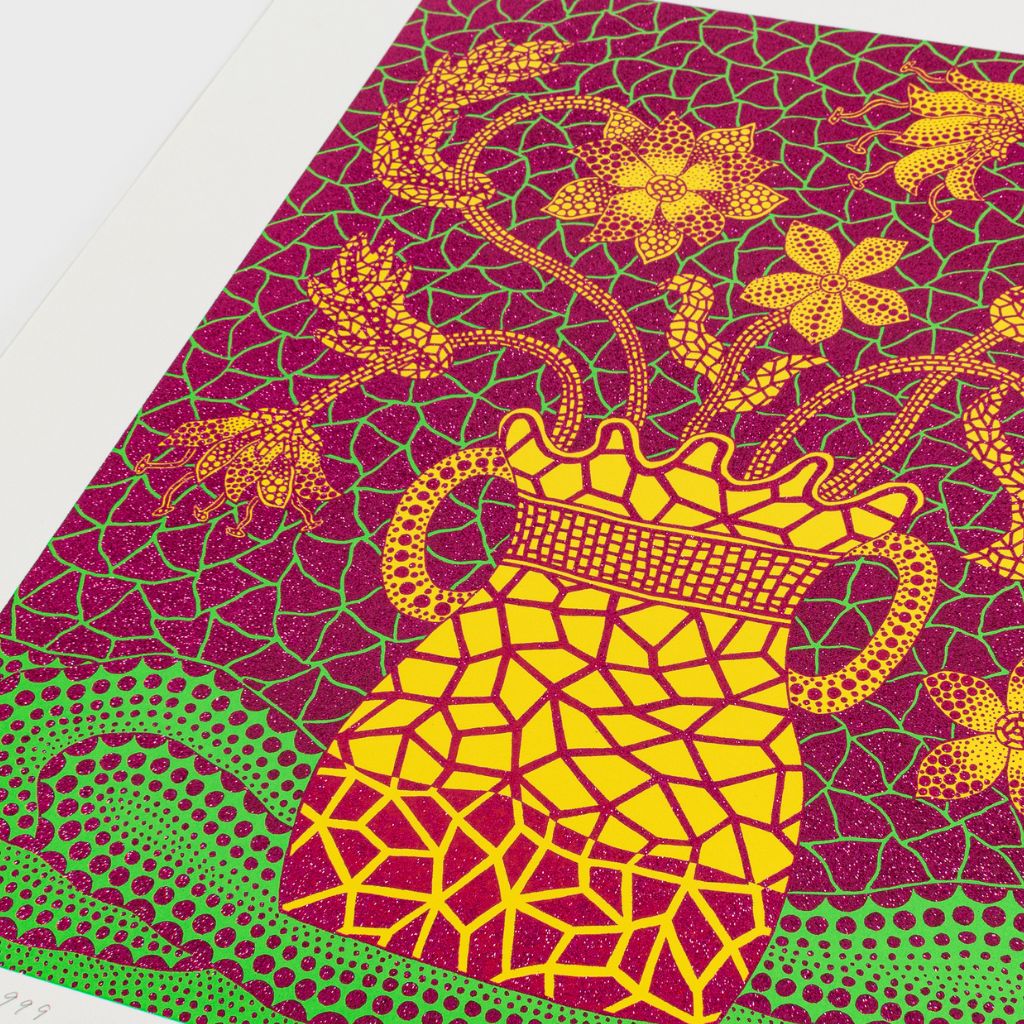 Collecting Yayoi Kusama Prints with Confidence
Yayoi Kusama, born on March 22, 1929, in Matsumoto, Japan, is a visionary artist whose career has spanned over seven decades. She emerged as a prominent figure in the art world during the 1960s with her avant-garde, often psychedelic, and deeply personal artworks. Kusama's work is characterized by its repetitive patterns, polka dots, and a fascination with infinity. Her art often blurs the boundaries between painting, sculpture, performance, and installation. Beyond her art, Kusama's life story is equally compelling, marked by struggles with mental health, stints in New York's avant-garde scene, and a commitment to her unique artistic vision. Today, she is celebrated as one of the most influential contemporary artists in the world, with her work exhibited in renowned galleries and museums worldwide.

 
Navigating the Maze of Authenticity
Artnet's Intelligence Report Mid-Year Review 2023 reported that Yayoi Kusama had become the third most searched artists in 2023 (only after Pablo Picasso and Andy Warhol). 
Her position in the art market is in no doubt – her innovative and immersive creations, marked by bold polka dots and captivating infinity mirror rooms, have not only redefined contemporary art but also inspired a global following. 
With this huge increase in interest, it is no surprise that there has been a proliferation of counterfeit prints coming to market. We are increasingly seeing auction houses and galleries failing in their duty to their clients to do their due diligence, or not investing the time to research this market, resulting in a growing issue.
As a gallery who have been buying and selling Yayoi Kusama prints for many years, the growing number of counterfeits in the market is of significant concern to us. The purpose of this article is to provide further context to this issue and to offer some initial advice if you are looking to buy a Yayoi Kusama print, shedding some light on the critical aspects of verifying and purchasing Yayoi Kusama prints.
1. The Prevalence of Fake Yayoi Kusama Prints
The art world is no stranger to counterfeit prints – it is not uncommon unfortunately. In recent years however, fake Yayoi Kusama prints have started to flood the market. These forgeries often make their way into regional auctions, particularly in Europe and the USA and at any one time it is not hard to find examples on the market. As the value of Kusama's prints continues to rise, collectors must be vigilant and aware of the risks associated with acquiring a Yayoi Kusama print.
2. Authentication Services by Yayoi Kusama's Studio
Until 2019, Yayoi Kusama's studio offered a print authentication service, charging a nominal fee of $100 for this service. The studio did not issue certificates of authenticity for prints - instead they provided authentication confirmation or identified a print as a counterfeit via email only, requesting that the confirmation wasn't forwarded to 3rd parties.
With no official means to confirm inauthenticity since 2019, the trustworthiness of the source or seller of a Yayoi Kusama print becomes paramount. 
We should note that the Yayoi Kusama studio issue Registration Cards for non-editioned artworks, emphasizing their importance in validating authenticity – but this doesn't apply to prints.
3. Reducing the Risk of Acquiring Fake Yayoi Kusama Prints
To minimize the likelihood of purchasing fake Kusama prints, collectors can take several precautions:
Extensive Research: Conduct comprehensive research on both the market value and distinctive markings of Kusama prints. Thankfully many counterfeit prints are obviously fake to those who know the market and are willing to do some research – but this doesn't stop these prints selling regularly at auction. The markings are key, and have changed over time, so find other examples of the specific print edition you are looking at buying and compare the markings carefully, placing more reliance on legitimate sources. The print technique, the quality of the print and the type of paper the edition was printed on should also be considered.
Value Fair Market Pricing: Authentic Yayoi Kusama prints typically come with a fair market price tag. If an offer appears unusually low, it may serve as a red flag for potential forgery. We see this regularly at regional auction houses, where for example a yellow Pumpkin print will sell for $10-20k, when the market value is currently $40,000+ (at the time of writing, September 2023). So, exercise caution when encountering deals that seem too good to be true, as they are often indicative of counterfeit pieces.
Source from Trusted Dealers: It is paramount to buy from reputable sources with deep knowledge of the Kusama print market. If buying from auction, understand what authenticity guarantees the house offers and your rights to return if proven to be inauthentic. It goes without saying but the risks are a lot lower if buying from an established and respected auction house, than a small regional auction house with little experience in this market.
Trust Lougher Contemporary for Authentic Yayoi Kusama Prints
Lougher Contemporary boasts extensive knowledge of the Yayoi Kusama print market, with over five years of specialisation in this field. We cater to both private and trade clients, serving some of the world's largest secondary market galleries. Rest assured, we diligently source our pieces and provide a guarantee of authenticity. 
We are committed to both raising awareness of fakes on the market, for all artists, but also ensuring that our clients acquire authentic Yayoi Kusama prints, backed by our expertise and unwavering dedication to authenticity. We are also committed to sharing our enthusiasm for Kusama's work. As one of the leading contemporary artists of our generation, we remain steadfastly bullish on her market and we strongly believe in the investment potential of her work, and it is our privilege to connect collectors with her practice and work.